Today we're looking at how many challenges have been completed in the Blight challenge league by player percentages, and how Ascendancy class use has panned out across the various league types and platforms. First of all, let's take a look at the Blight challenges.
The graph below shows what percentage of players have how many challenges and only includes accounts for those that have completed at least one challenge.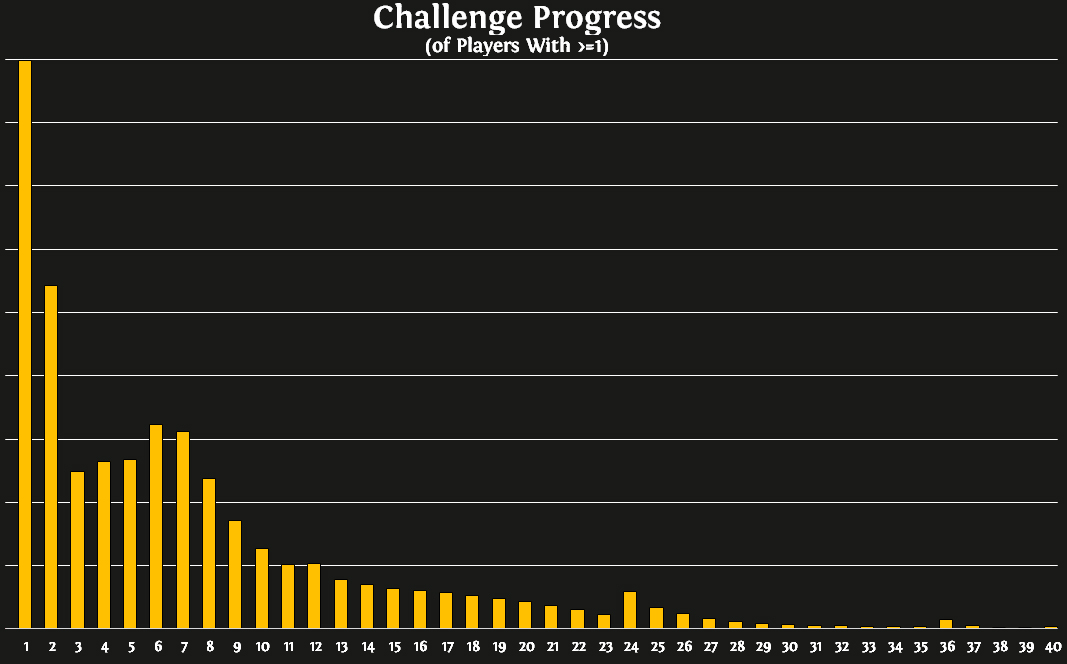 20% of players have completed 12 challenges and earned the Blight Helmet.
4.8% of players have completed 24 challenges and earned the Blight Portal Effect.
0.65% of players have completed 36 challenges and earned the Blight Wings.
Next, let's look at all the characters in all Blight leagues on PC. The following Ascendancy class stats were taken during the week of September 22nd - September 29th so as to be a fair comparison against data sets taken from the same point during Legion.
All Levels, All Blight Leagues (PC)
Necromancer
17.431%
Witch
14.610%
Shadow
10.106%
Ranger
6.347%
Templar
6.265%
Assassin
6.072%
Duelist
4.930%
Saboteur
4.469%
Marauder
4.274%
Hierophant
3.298%
Scion
2.635%
Deadeye
2.073%
Trickster
1.999%
Elementalist
1.936%
Slayer
1.768%
Raider
1.627%
Pathfinder
1.491%
Gladiator
1.447%
Guardian
1.118%
Juggernaut
0.973%
Inquisitor
0.914%
Ascendant
0.892%
Champion
0.884%
Occultist
0.882%
Chieftain
0.864%
Berserker
0.692%
We see Necromancer at the top, which is an exception to the norm as most of the top spots are taken up by unascended characters. No class other than the Necromancer is more popular than the unascended class at this point. There are probably a number of contributing reasons, one of which is that a large portion of players had decided on that Ascendancy well in advance. Another is that Necromancer is a class that naturally appeals to newer and more casual players, and the buffs to summoner skills and passives had allowed them to progress characters more quickly and successfully this league.
Comparing back to Legion, Duelist topped out at 11.72% of all classes. You'll note that the highest ascendancy class was only 9.92% at the time. Which begs the question, why are there so many more ascended characters in Blight compared to Legion? Are players this league suddenly playing longer? Are they ascending sooner?
Now, let's restrict our focus to level 70+ characters in Blight League on PC.
Level 70+, Blight (PC), Standard and Hardcore
Necromancer
36.274%
Assassin
11.501%
Saboteur
8.382%
Hierophant
6.233%
Deadeye
4.039%
Trickster
3.959%
Slayer
3.392%
Elementalist
3.342%
Raider
3.252%
Gladiator
2.726%
Pathfinder
2.557%
Guardian
2.252%
Juggernaut
1.772%
Champion
1.660%
Occultist
1.573%
Ascendant
1.541%
Chieftain
1.477%
Inquisitor
1.469%
Berserker
1.230%
Witch
1.083%
Shadow
0.087%
Duelist
0.069%
Ranger
0.056%
Templar
0.033%
Marauder
0.027%
Scion
0.015%
We see that Necromancer is still leading the pack, and the gap between it and the second most popular ascendancy, which happens to be the Assassin, has increased. Given that 3.8.0's reworks focussed on Necromancer, Assassin and Saboteur (through the changes to Mines), it is reasonable to see these three at the top.
Comparing back to Legion league, the highest ascendancy class at the time was Slayer, coming in at 25.63%. There's a stark increase in Blight league, with Necromancer taking up 36.27% of characters at this level bracket. The gap between the most popular ascendancy and the second most popular ascendancy has widened from 9.51% during Legion league to 24.77% in Blight league.
Level 90+, Blight (PC), Standard and Hardcore
Necromancer
42.359%
Assassin
10.704%
Saboteur
8.069%
Trickster
4.757%
Deadeye
4.498%
Hierophant
4.193%
Raider
3.891%
Slayer
3.828%
Elementalist
2.430%
Gladiator
2.169%
Pathfinder
2.124%
Juggernaut
1.980%
Guardian
1.759%
Champion
1.739%
Occultist
1.580%
Ascendant
1.220%
Berserker
1.065%
Chieftain
0.986%
Inquisitor
0.641%
Witch
0.004%
Ranger
0.002%
Marauder
0.001%
Duelist
0.001%
Further restricting our focus to level 90+ characters in Blight League on PC, we see Necromancer climb to 42.36% of all characters, while Assassin and Saboteur both drop off slightly. During Legion, Slayer came in at 36.67% of all characters at level 90+, slightly below Blight's most popular ascendancy class.
There's a much larger gap between the most popular ascendancy and the second most popular ascendancy during Blight than there was during Legion. The gap was 16.63% during Legion, but during Blight league this gap has grown to 31.66%. The top two ascendancies during Legion comprised 56.71% of all characters, during Blight they comprise 53% of all characters, roughly the same percentage.
Level 90+, Blight HC (PC)
Necromancer
42.016%
Juggernaut
7.919%
Saboteur
6.590%
Guardian
6.512%
Assassin
5.001%
Trickster
4.663%
Occultist
4.454%
Champion
3.647%
Hierophant
3.100%
Gladiator
2.240%
Elementalist
2.214%
Deadeye
2.162%
Slayer
2.058%
Pathfinder
2.006%
Raider
1.875%
Chieftain
1.589%
Ascendant
0.860%
Berserker
0.599%
Inquisitor
0.495%
If we now look at just level 90+ characters in Hardcore Blight on PC, we continue to see Necromancer at the top, but Juggernaut takes a massive leap into second place, taking up 7.92% of all characters, whereas it makes up only 1.98% of all characters when Standard Blight is included. The Guardian has seen another notable increase, going from 1.76% to 6.51% in Blight HC. Notable decreases include the Deadeye and Ranger, seeing about half as much play in Hardcore Blight.
Next, we'll look at level 90+ characters in Blight Solo Self-Found on PC.
Level 90+, Blight SSF (PC)
Necromancer
58.005%
Saboteur
8.715%
Assassin
8.051%
Trickster
2.882%
Hierophant
2.790%
Guardian
2.447%
Raider
2.264%
Elementalist
1.898%
Pathfinder
1.693%
Occultist
1.670%
Gladiator
1.578%
Slayer
1.487%
Juggernaut
1.304%
Deadeye
1.235%
Champion
1.075%
Ascendant
1.029%
Chieftain
0.823%
Inquisitor
0.618%
Berserker
0.435%
Necromancer continues to climb in popularity here, peaking at 58% of all characters (up from 42.36% in all Blight leagues). The Necromancer is traditionally not too reliant on specific items for power until endgame, and the buffs that came alongside Blight have amplified that, Saboteur and Assassin remain almost as popular as they are in trade-leagues. Deadeye sees significantly less play in SSF leagues than in trade-leagues, with a drop from 4.5% down to 1.24%.
Level 70+, Blight (PS4)
Necromancer
36.848%
Assassin
8.489%
Hierophant
6.434%
Slayer
5.960%
Saboteur
5.058%
Elementalist
4.790%
Trickster
4.616%
Deadeye
3.952%
Raider
3.162%
Pathfinder
2.703%
Champion
2.308%
Juggernaut
2.229%
Chieftain
2.102%
Ascendant
1.976%
Berserker
1.755%
Occultist
1.723%
Guardian
1.344%
Inquisitor
1.312%
Gladiator
1.233%
Witch
1.043%
Ranger
0.300%
Duelist
0.206%
Shadow
0.158%
Templar
0.142%
Marauder
0.111%
Scion
0.047%
Looking at level 70+ characters in Blight on PS4, Necromancer (expectedly) is at the top. Interestingly, compared to PC, Necromancers make up almost the exact same proportion of the population on both platforms. However, more players are playing Assassins and Saboteurs on PC than on PS4. Slayer sees quite a bit more play on PS4 than on PC; one likely explanation for this is that a good chunk of these Slayers are playing Cyclone (which feels great on a controller).
Now let's look at level 70+ characters in Blight, but on Xbox.
Level 70+, Blight (Xbox)
Necromancer
38.910%
Assassin
9.472%
Hierophant
6.440%
Saboteur
5.554%
Elementalist
5.009%
Slayer
4.940%
Deadeye
3.884%
Trickster
3.612%
Raider
3.101%
Chieftain
2.453%
Champion
2.385%
Guardian
1.704%
Berserker
1.670%
Juggernaut
1.635%
Inquisitor
1.601%
Pathfinder
1.567%
Ascendant
1.567%
Occultist
1.465%
Gladiator
1.465%
Witch
1.056%
Templar
0.136%
Duelist
0.136%
Shadow
0.102%
Marauder
0.102%
Ranger
0.034%
How do the two consoles differ from one another? There isn't much change at the top, with Necromancer, Assassin and Hierophant being the most popular choices. Slayer, Trickster and Pathfinder are seeing slightly less play on Xbox than on PS4, but otherwise there doesn't appear to be many notable differences between the two platforms. An interesting evolution since the early days of the PS4 version!
That wraps up this batch of Ascendancy statistics. Are there any other statistics related to Ascendancy classes that you would be interested in knowing about? Let us know!
Natalia_GGG
Oct 21, 2019 00:35:28 AM
PsOfOs
Oct 21, 2019 00:40:11 AM
as usual, most of the players don't give a flyin f about challenges
Tyrion2
Oct 21, 2019 00:43:02 AM
Sad that you ALL have your Minions due your bidding!!!!! Boring
dragnmith1
Oct 21, 2019 00:47:28 AM
Joernzen
Oct 21, 2019 00:51:54 AM
I wish I wasn't so bad at this game.
NudesForAzurite
Oct 21, 2019 00:52:34 AM
S1meon_ttv
Oct 21, 2019 00:53:22 AM
I just wanted to post here to let Chris, Tencent, and GGG know that as of yesterday, for the very 1st time since playing late delve league, I beat Uber Elder with Cyclone Slayer build, and that they all have my permission now to move forward with a Flashback league in 3.9 :P
AShugars
Oct 21, 2019 01:03:06 AM
GGG: The meta this league is necromancer!
Statistics: Necromancer dominates
GGG: *shocked pikachu meme*
VictusBcb
Oct 21, 2019 01:04:58 AM
"

Flashback when?
never
but anyway, 58% necro in SSF? gaDAYUM
it isn't surprising that necro is in the top spot. but what is surprising is just how so many people are meta slaves, lol
xMustard
Oct 21, 2019 01:06:16 AM